Audi e-tron GT on subscription
Good-looking and reliable
The Audi e-tron GT is both an outrageously good-looking sports car and your reliable partner on the world's roads. Get your Audi e-tron GT with a Clyde electric car subscription now and enjoy an impressive 476 hp and a range of up to 487 km.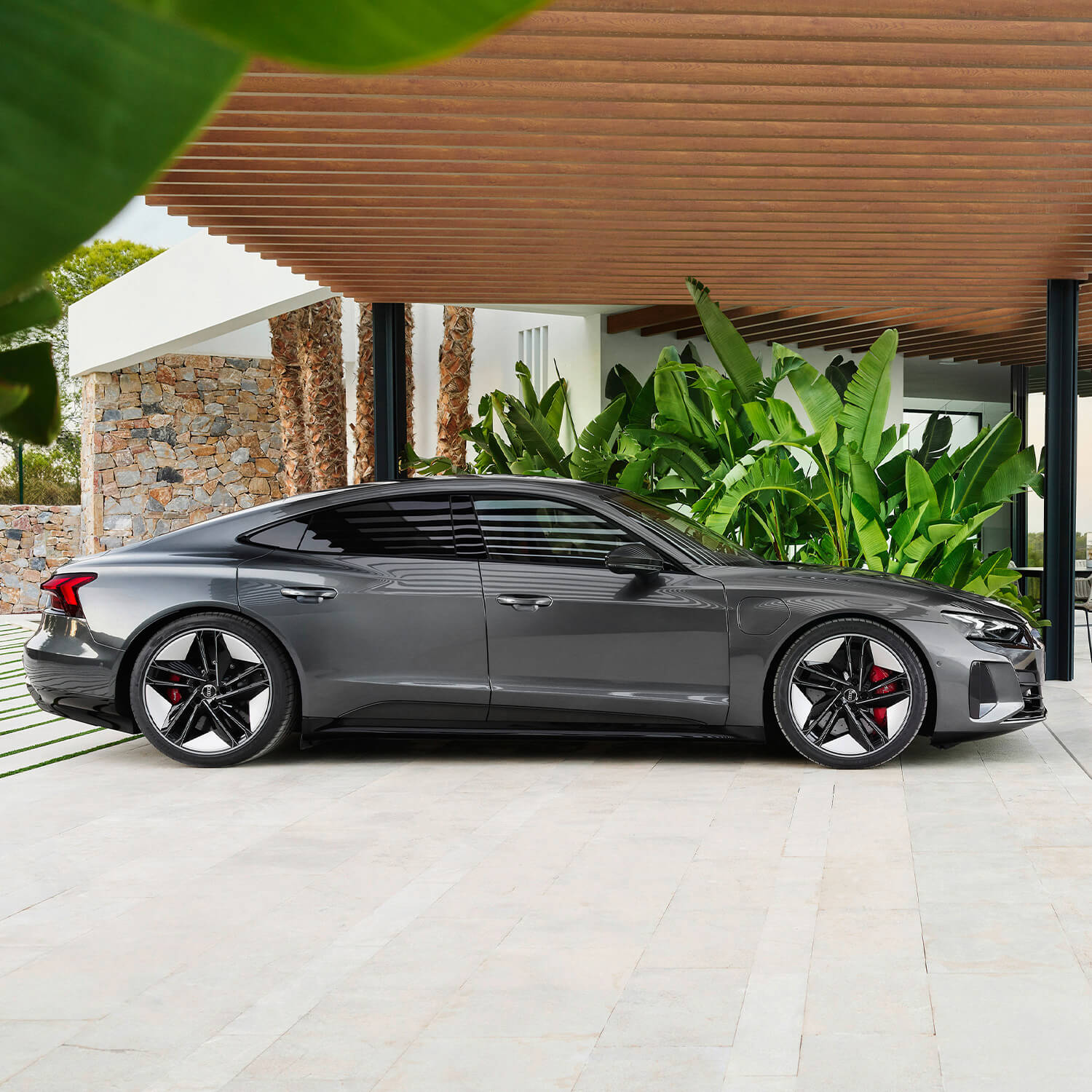 Aerodynamic
Your Audi e-tron GT will turn every journey into a real experience. This is because the fully variable quattro drive and the electric drive system automatically and ideally distribute the power to the individual wheels. Things get really spectacular when you use the rear wing. This is because it can be adjusted in two stages, which ensures that the aerodynamics are dynamically adjusted.
The highlights of the Audi e-tron GT:
In your Audi e-tron GT, you'll not only enjoy that sports car feeling on the road, but you also have plenty of room for your luggage thanks to its two luggage compartments.
Your questions
about the
Audi e-tron GT
The Audi e-tron GT has a range of up to 487 kilometers.
Yes, you can also charge the Audi e-tron GT at home thanks to the mobile and flexible e-tron charging system. All you need is a power outlet. Even faster charging is possible at compatible industrial outlets. With the "Clyde Energy Benefit" we even compensate your private electricity consumption for charging with a credit of 0.30 CHF/kWh in the form of vouchers, which you can offset against your next monthly instalment.
Yes, you can charge your Audi e-tron GT at no extra cost. Thanks to our unique "Clyde Energy Benefit", electricity is included at public charging stations as well as at home or at work.
Yes, you can charge the Audi e-tron GT abroad without any problems. Your car subscription from Clyde includes public charging at all available charging stations from the swisscharge.ch charging network in Switzerland and throughout Europe in your subscription rate. In addition, thanks to the e-tron Charging Service, you have access to more than 400,000 charging points in 26 European countries.
You can subscribe to the Audi e-tron GT from CHF 1'449 per month depending on model, equipment, term and mileage package.
The Audi e-tron GT can hold 490 liters of luggage.
Your available Audi e-tron GT on subscription
The advantages of the e-car subscription from Clyde.
All inclusive.

Only with Clyde is everything included: electricity, insurance, service, tyres, taxes, registration, multiple drivers, motorway vignette and more.

Clyde Energy Benefit.

When you charge your electric car at one of the public charging stations in our partner charging network, the electricity is included. Private charging is credited in the form of vouchers.

Maximum flexibility.

You choose your car and determine the minimum duration between 3 and 48 months as well as the monthly mileage package between 250 and 4'000 km. Everything is 100% digital.

Fast delivery.

You have the choice: free home delivery or pick-up? No matter which you choose, you'll be hitting the streets in 10 business days.
Your Audi e-tron GT on subscription from Clyde: the best choice for maximum flexibility
Find your dream car among a wide range of electric cars on subscription. Have you fallen madly in love with the Audi e-tron GT? Perfect! Now you can start the digital subscription configuration. Simply choose your minimum term (3, 6, 12, 24, 36 or 48 months) and the mileage package (250, 500, 1,000 or even 4,000 km per month) that suits you and your individual situation. If your needs change, but you still want to stay mobile, you can switch from the Audi e-tron GT to another car of your choice at any time after your minimum term expires. Clyde means pure flexibility in the long-term rental of your vehicle.