Tesla Model 3 on subscription
Pure power
One, two or three? You can get the latter from us now. With your Clyde electric car subscription, you can now opt for the Tesla Model 3. With its four-wheel drive and inspiring glass roof, it is designed to get you to your destination safely. Effortlessly, thanks to its 498 hp power pack coupled with a range of up to 602 km.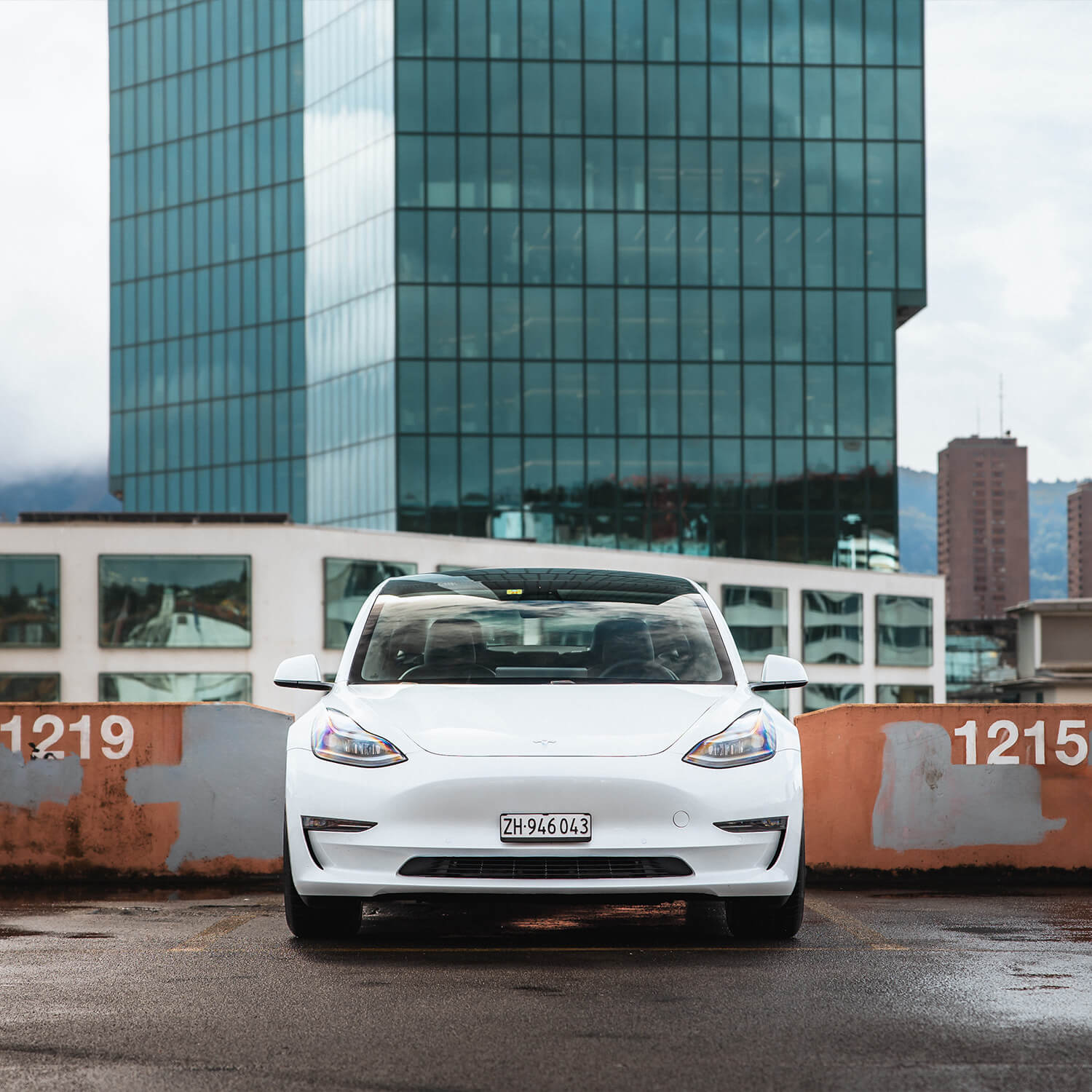 Digital driving experience
When you drive your Tesla Model 3, you can always rely on the Tesla all-wheel drive with its two independent electric motors. They control the torque digitally on the front and rear wheels, ensuring better handling and optimum traction. Another highlight of the Tesla Model 3 awaits you inside: a 15-inch touchscreen that allows you to control all its functions.
Highlights of the Tesla Model 3:
Small in size, but delivers big: There's plenty of room in the boot for loads of luggage.
Your questions
about the
Tesla Model 3
The Tesla Model 3 has a range of up to 602 km.
Yes, you can charge the Tesla Model 3 at home. The best way to do this is via a wallbox that is connected to your household power grid. Compared to a household socket, the wallbox is not only more efficient, but also safer.
In addition, more than 40,000 Supercharger charging stations from the Tesla charging network are available. With the "Clyde Energy Benefit" we even compensate your private electricity consumption for charging with a credit of 0.30 CHF/kWh in the form of vouchers, which you can offset against your next monthly instalment.
Yes, you can charge your Tesla Model 3 at no extra cost. Thanks to our unique "Clyde Energy Benefit", electricity is included at public charging stations as well as at home or at work.
Yes, you can charge the Tesla Model 3 abroad without any problems. In your car subscription from Clyde, public charging at all available charging stations from the swisscharge.ch charging network in Switzerland and throughout Europe is included in your subscription rate.
649 liters of luggage fit in the Tesla Model 3.
You can subscribe to the Tesla Model 3 from CHF 779 per month, depending on the model, equipment, term and mileage package.
Your available Tesla Model 3 on subscription
The advantages of the e-car subscription from Clyde.
All inclusive.

Only with Clyde is everything included: electricity, insurance, service, tyres, taxes, registration, multiple drivers, motorway vignette and more.

Clyde Energy Benefit.

When you charge your electric car at one of the public charging stations in our partner charging network, the electricity is included. Private charging is credited in the form of vouchers.

Maximum flexibility.

You choose your car and determine the minimum duration between 3 and 48 months as well as the monthly mileage package between 250 and 4'000 km. Everything is 100% digital.

Fast delivery.

You have the choice: free home delivery or pick-up? No matter which you choose, you'll be hitting the streets in 10 business days.
Your Tesla Model 3 on a subscription from Clyde : the best choice for maximum flexibility
Choose your dream car on subscription from a wide range of electric cars. Have you fallen in love with the Tesla Model 3? Excellent! You can now configure your digital subscription. Simply choose your minimum subscription period (3, 6, 12, 24, 36 or 48 months) and the kilometre bundle (250, 500, 1,000 or even 4,000 km per month) that suits you and your individual situation. If your needs change but you still want to stay mobile, you can switch from the Tesla Model 3 to another car of your choice at any time after your minimum subscription period has expired. Clyde means incredible flexibility when it comes to long-term rental of your car.